Week 1 of the NFL season has come and gone. Fans were excited for the action on the field. But there was just as much action at the Ohio online sportsbooks.
A new report from geolocation firm GeoComply shows just how many people in The Buckeye State were making bets during the first week of NFL action.
As the most popular sports league in the US, the start of the NFL season is one of the most critical times of the year for online sports betting operators. With Ohioans finally able to place bets on their favorite NFL teams, fan engagement and sportsbook activity have never been higher.
Ohio tops new markets sports betting during Week 1 of NFL season
The Ohio sports betting market is one of three major markets that experienced its first start to the NFL season. Ohio launched legal sports betting in January 2023 with record numbers, with 11.3 million geolocation transactions in the state throughout New Year's weekend. That momentum carried over massively as folks started checking out NFL betting odds.
GeoComply's report shows 19.4 million Week 1 geolocation checks across GeoComply's sportsbook customers in Ohio between September 3 and September 10. Furthermore, there were around 133,000 new accounts created.
Ohio beat out both Maryland and Massachusetts, states also experiencing the excitement of their first NFL season. The video below shows how active things were in Ohio during the first week of NFL action.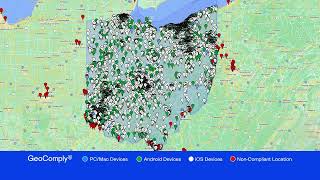 Even with regulated betting live in Maryland since November of 2022, the NFL season kickoff added around 61,000 new accounts and over 12 million geolocation checks. Meanwhile, the passion for football was on full display in Massachusetts, where nearly 60,000 new sports wagering accounts were added and more than 9 million geolocation transactions.
Over 1.1 million people opened sports betting accounts during NFL Week 1
Close to 60% of online sportsbook operators' annual revenue comes from the NFL season. A large chunk of that comes at the beginning of the season. Folks are optimistic about their favorite teams, and it is a great time to find great odds on teams or players you think are undervalued and primed to break out.
Today, 24 states, plus Washington DC and Puerto Rico, have launched mobile sports betting. Between September 3 and September 10, GeoComply recorded 242.3 million geolocation transactions across its US-regulated online sportsbook customers. That's a massive 56% uptick from 2022, which logged 103 million checks.
Another critical note from GeoComply's report is how bettors are ditching unregulated online betting sites for legal options nationwide. Week 1 of the NFL season saw 1.1 million new player accounts created across GeoComply's US sportsbook customers. That's an increase of 40% from last year.
Bettors are also using their phones more than ever when placing a bet. Week 1 data shows that 97% of all online sports wagering transactions were made through a mobile device.