Cincinnati Reds odds
Online sports betting will launch in Ohio on Jan. 1, 2023. This page will be updated with the latest news, odds and promos once Ohio sportsbooks are live.
With the Reds rolling again and legal sports betting finally landing in Ohio, there's no better time to bet on Cincinnati baseball than the start of any MLB season. In fact, the Reds are hoping they can offer Ohio sports betting directly, both online and in person at a retail sportsbook inside Great American Ball Park.
Want in on all this Cincinnati Reds betting action? Here's how to bet on the Reds online in Ohio, including live Reds odds for every game, Reds World Series odds, and selected prop odds for a few of the Reds' best players.
Today's Reds odds: Moneyline, World Series, Props
Here's where you'll find all the latest odds on the Cincinnati Reds from Ohio's best online sportsbooks, including game lines, futures odds, player props and more. Click on any bet you like to go right to the sportsbook, sign up for a new account, claim the best bonus available and bet on it.
Reds World Series, NL odds
Nick Castellanos MVP, prop odds
What is the Reds moneyline?
MLB moneylines are where you pick straight-up game winners. That means there's no run line to factor in; you simply pick a team to win and lock in your bet at the currently posted moneyline odds for that team.
A typical Reds moneyline might look something like this at DraftKings Sportsbook in Ohio:
Detroit Tigers +160 at Cincinnati Reds -180
Here, you can bet on the favorite, the Reds. According to these odds, if the Reds win, you'll get paid $100, plus your bet back, for every $180 you bet. You can also bet that the underdog Tigers will win. According to these odds, if they do it, you'll get paid $160, plus your bet back, for every $100 you bet. These odds may change ahead of the game, but you lock the currently posted odds in for your bet at the time you place it.
What is the Reds run line?
MLB run lines are akin to point spread betting in other sports. That means you have to factor the run line into the final score to determine the winner in run line betting.
Standard run lines are set at 1.5 runs, but alternatives are also available at different odds. A typical Reds run line might look something like this at FanDuel Sportsbook Ohio:
Detroit Tigers +1.5 (-125) at Cincinnati Reds -1.5 (+115)
Here, you can bet on the favorite, the Reds, winning by two or more runs. According to these Reds betting odds, you'll get paid $115, plus your bet back, for every $100 you bet. You can also bet that the underdog Tigers will win outright or lose by just one run. According to these betting odds, you'll get paid $100, plus your bet back, for every $125 you bet. The run line has turned a favorite into an underdog and vice versa, which shows you how run lines can be used to manipulate the moneyline. Just remember, unlike traditional moneyline betting, you have to factor the run line into the final score.
What are the Reds totals odds?
MLB totals are where you can bet on the total combined score of a game landing either over or under a line set by sportsbooks. A typical Reds totals line might look something like this on the BetMGM sportsbook app:
Detroit Tigers at Cincinnati Reds OVER(-105)/ UNDER(-110) 9.5
You bet on the over or the under at the currently posted odds, which are almost always slightly negative, factoring in a small vig for the sportsbook. Here, you can bet on the Tigers and Reds combining to score nine runs or fewer.
If that happens, you'll get paid $100, plus your bet back, for every $105 you bet. You can also bet on the Tigers and Reds combining to score 10 runs or more. If that happens, you'll get paid $100, plus your bet back, for every $110 you bet.
Betting on Reds props and futures
You can bet on more than just MLB games at Ohio sportsbooks. You can bet on different games within the game. That means props, including team and player game props based on all kinds of stats. Plus, season-long props, like the different end-of-season MLB awards and any Reds player's chances of winning one.
Here's a list of many of the different MLB props you can bet on:
Team game props
Team to score first
Will a run be scored in the first?
O/U on team and combined hit, run and error totals
O/U on total home runs
Player game props
O/U on a player's total hits, runs and RBIs
O/U on a pitcher's total strikeouts
Will a specific player hit a home run?
Head-to Head matchups on hits, runs, RBIs and strikeouts
Season-long props
AL/NL MVP
Division winners
Pennant winners
Wild Card berth
To make the postseason
AL/NL Rookie of the Year
Learn more about Ohio baseball betting and MLB betting odds via the links.
Reds Manager, Bench Staff
Here's a look at the Cincinnati Reds' current manager and coaches:
Manager: David Bell
Bench Coach: Freddie Benavides
Assistant Hitting Coach: Joel McKeithan
Pitching Coach: Derek Johnson
Assistant Pitching Coach: Eric Jagers
Third Base/Catching Coach: J.R. House
Game Planning/Outfield Coach: Jeff Pickler
Bullpen Catcher: Jose Durate
Assistant Coach: Kyle Arnsberg
Cincinnati Reds home games
Home Stadium: Great American Ball Park
Address: 100 Joe Nuxhall Way
Location: Cincinnati, Ohio
Owner: Hamilton County
Operator: Cincinnati Reds
Baseball Capacity: 42,319
Ground Breaking: Aug. 1, 2000
Opened: Mar. 31, 2003
Construction Cost: $290 million
Previous Reds Home: Riverfront Stadium (1970–2002)
How to watch or listen to Reds games
Bally Sports Ohio is the official TV home of the Cincinnati Reds. The play-by-play announcer is John Sadak and color analysts include Chris Welsh and Barry Larkin.
Bally Sports Ohio is available on DirecTV, AT&T TV and various cable providers. You can also stream games on the internet out-of-market via MLB.TV and in-market via the Bally Sports app with proof of your cable subscription.
The Reds Radio Network features broadcasters Tommy Thrall and Jeff Brantley covering every game. Cincinnati affiliates include WLW 700 AM and WKFS 94.5 FM.
Signature Reds moment
The Cincinnati Reds ruled baseball in the mid-1970s with a squad known as the Big Red Machine. They won back-to-back World Series in 1975 and 1976. In 1975, the Reds won 108 regular season games, swept the Pittsburgh Pirates to win the NL pennant and beat the Boston Red Sox in Game 7 of the World Series to win the title.
In 1976, the Reds ran away with the NL West and went undefeated in the postseason, sweeping the Philadelphia Phillies in the NLCS and the New York Yankees in the World Series.
The Reds were the first NL team to win consecutive World Series since 1922. Big Red Machine heroes included manager Sparky Anderson and legendary players Pete Rose, Johnny Bench, Joe Morgan, Tony Pérez, Dave Concepción and Ken Griffey, Sr.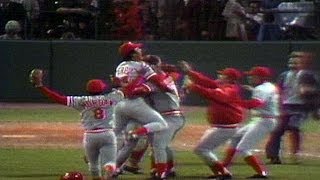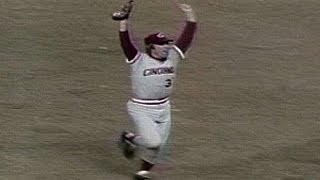 Reds Franchise Facts & Figures
Franchise Value: $1.085 billion
Owner: Robert Castellini
Paid: Castellini bought the Reds for $270 million in 2006
Numbers Retired:

#42 – Jackie Robinson
#1 – Fred Hutchinson
#5 – Johnny Bench
#8 – Joe Morgan
#10 – Sparky Anderson
#11 – Barry Larkin
#13 – David Concepción
#14 – Pete Rose
#18 – Ted Kluszewski
#20 – Frank Robinson
#24 – Tony Perez

Video Game Rating: 21st overall in MLB The Show 21
Best Pitching Seasons: The most wins posted by a Reds pitcher since the 1960s was 23 from Danny Jackson in 1988. However, Trevor Bauer posted a 1.73 ERA in 2020, the second-lowest ERA by a Reds pitcher ever.
Best Reds Hitting Seasons: George Foster's 52 home runs and 149 RBIs in 1977 was the most ever by a Reds player in a single season in both categories. Pete Rose hit .348 in 1969 to post the team's best batting average since the 1920s.
Four more interesting Reds numbers
Richest Reds Contract: Joey Votto signed a $225 million, 10-year contract before the 2014 season.
Reds NL MVP winners since 1970: (8) Johnny Bench (1970), Johnny Bench (1972), Pete Rose (1973), Joe Morgan (1975 and 1976), George Foster (1997), Barry Larkin (1995), Joey Votto (2010)
Reds NL Cy Young Award Winners: (1) Trevor Bauer (2020)
Reds NL Rookie of the Year Winners: (7) Frank Robinson (1956), Pete Rose (1963), Tommy Helms (1966), Johnny Bench (1968), Pat Zachry (1976), Chris Sabo (1988), Scott Williamson (1999)