Ohio State Basketball Odds
The Ohio State Buckeyes are a perennial top 25 NCAA basketball team. Now that legal online sports betting is a reality for Ohio, Buckeyes basketball odds will be front and center from November to March every year.
With the Buckeyes always a threat to win the Big Ten or go deep in the NCAA Tournament, online betting action will rise alongside the team's success. Below find the best online sportsbooks to bet on Ohio State basketball online plus the next Ohio State game odds, NCAA Championship futures odds, and more.
Ohio State Basketball odds: Spreads, Championship, Props
Below find all the latest Ohio State Buckeyes basketball lines and odds direct from legal online sportsbooks in Ohio. That includes Buckeyes moneyline odds, spreads, and totals for upcoming games, plus Ohio State odds to win the Big Ten or win the National Championship. Click on any odds to go to the Ohio online sportsbook, register for an account, claim your sports betting bonus and start betting.
Ohio State Championship odds
How to bet on Ohio State Buckeyes basketball games in Ohio
Ready to make some wagers on the Buckeyes NCAA basketball games? Here in Ohio, you have a nice selection of sportsbooks to get you started, including DraftKings and FanDuel.
Signing up for a sportsbook is quick, easy and, best of all, it is free. Additionally, by following our exclusive links to the sportsbook you decide to create an account with, you will have access to the best promotions and bonuses currently available in Ohio.
To get started, you'll need to choose an online or mobile sportsbook you'd like to register an account with. If you're unsure as to which sportsbook best fits your needs, you can read through our comprehensive reviews of all of the legal Ohio sportsbooks.
Once you've selected your sportsbook and have followed the link to the homepage, you'll be given access to the sign-up or register page. There you will be asked to provide your personal information, such as your full name, address, phone number, Social Security number and more. Don't worry about the security of your information since the sportsbooks in Ohio use some of the best encryption and cybersecurity available.
You'll then be required to accept the terms and conditions of the sportsbook, which we do suggest you take the time to read. From that point, you'll then be able to make your deposit, get your bonuses and promotions and then begin making bets on Ohio State basketball games.
Buckeyes NCAAB betting lines explained
Now that you're all signed up for an account at an Ohio sportsbook, you're going to need to know how to read NCAA basketball betting lines. Below we've put together a short example of what you might come across when making wagers and how to understand the information being presented.
If you'd like to know more about any of the bet types we discuss below, you can follow our links to the pages dedicated to those bet types here on our website.
Let's take a look at a Big Ten betting line featuring the Ohio State Buckeyes: 
Ohio State Buckeyes -6.5 (-110) -145 O 155.5 (-110)
Wisconsin Badgers +6.5 (-110) +135 U 155.5 (-110)
As you can see, this is a game featuring the Ohio State Buckeyes basketball team playing against the Wisconsin Badgers.
Point Spread
Now, let's take a look at the first set of numbers for each team. The point spread is represented by the number of points the oddsmakers expect the favorite team to win by. In this case, it is the Ohio State basketball team with an expected victory of at least 6.5 points. You can tell they are the favorite because their points are listed with a negative number.
The Buckeyes have to win the game by 6.5 points or more. Since there are no half-points in basketball, this means OSU needs to win by seven points. If they do, then they cover the spread and bets on them will pay out. Any other outcomes, such as Wisconsin losing by five points, would mean losses for bettors who put money down on the Buckeyes.
On both sides of the point spread bet, the odds are -110, which means you will need to wager $110 in order to win $100. The payout on that bet would be $210, which is the original wager returned to you plus the winnings.
Read more about point spread betting.
Moneyline
The next numbers you see are the moneyline odds. Since the Buckeyes are favored to win, they are listed with a negative number: -145. The Badgers are the underdogs and their odds are listed with a positive number: +135.
The moneyline bet requires you to pick which team is going to win the game. If you're right, then the payout will be based on those odds. A wager on Ohio State at $145 would pay out $245, which is the bet plus the profit. Betting on Wisconsin at $100 would pay out $235. That is the $100 bet plus $135 in winnings.
Learn more about moneyline betting.
Totals
The final set of numbers for each team in this example is for totals bets. Totals, which are known as over/under bets, show you the number of points that the sportsbook's odds makers expect the combination of the two teams to score. In this case, that number is 155.5 points.
Unlike the other bet types in this example, you don't need to concern yourself with which team actually wins the game. Instead, your only focus with an over/under wager is to determine if the two teams playing in the contest have the firepower to score over the predicted total, or if the defenses will keep the final combined score under that prediction.
For example, if the game's final score is 84-79, then the total is 163 points — well over the 155.5 points predicted.
On both sides of the totals bet, the odds in this example are listed at -110. Like our above examples, a negative odds number shows you how much you need to wager in order to win $100. So a $110 bet would pay out $210, which is the profit on top of the original wager amount being returned to you.
Michigan-Ohio State betting odds
There are Ohio State basketball games, Ohio State Big Ten basketball games, and then there are Ohio State-Michigan rivalry games.
The Ohio State-Michigan rivalry is one of the biggest in both football and college basketball. Both teams are in the Big Ten, each has won a National Championship, and both have similar all-time winning percentages, hovering above .600. Ohio State currently leads the series, holding a 100–73 record against the Wolverines.
Both teams were ranked in the top five in the country for the first time when they met in February 2021, with Michigan winning 92-87. This season, they're scheduled to meet twice. Here's a look at the 2021-2022 Ohio State-Michigan rivalry schedule:
Ohio State at Michigan
Date: Feb. 5, 2023
Time: 1 p.m.
Where: Crisler Center in Ann Arbor, MI
Watch: ESPN/ESPN2
See above for current Ohio-St.-Michigan odds.
Ohio St Buckeyes March Madness odds
You can bet on March Madness futures now and throughout the entire year. This includes betting on Ohio State to make the NCAA Tournament, make the Final Four, and even win the National Championship. The odds change alongside the team's chances of accomplishing each goal, but you lock them in as currently posted when you place a bet.
For more on Ohio State's March Madness futures including all the latest odds, check out our March Madness odds, First Four odds, and March Madness bracket contest pages.
Ohio State Buckeyes home games
Name: Value City Arena
Address: 555 Borror Dr.
Location: The Ohio State University campus in Columbus, Ohio
Owner: The Ohio State University
Operator: Columbus Arena Management
Basketball Capacity: 18,809
Trivia: The student section is known as the Buckeye Nuthouse, the sister venue to Nationwide Arena, home of the NHL's Columbus Blue Jackets
Groundbreaking: Mar. 2, 1996
Opened: Nov. 3, 1998
Construction cost: $110 million
Other sports: Ohio State women's basketball and men's ice hockey
Ohio State basketball players in the NBA
The Utah Jazz's Mike Conley, Minnesota Timberwolves' D'Angelo Russell, Houston Rockets' Jae'sean Tate, and San Antonio Spurs' Keita Bates-Diop are among the current NBA players who went to Ohio State.
Of course, the most famous NBA players to come out of Ohio State are Boston Celtics legend John Havlicek, 18-year NBA veteran center Herb Williams, 12-year NBA veteran guard Michael Redd and 14-year NBA veteran guard Jim Jackson.
Who is the head coach of Ohio State basketball?
Here's a look at the current Ohio State basketball coaching staff:
Chris Holtmann – Head Coach
Jake Diebler – Associate Head Coach
Jack Owens – Assistant Coach
Mike Netti — Assistant Coach
Quadrian Banks – Assistant Director of Strength and Conditioning
David Egelhoff – Director of Basketball Operations
Nicholas Kellogg – Special Assistant to the Head Coach
How much are Ohio State basketball tickets?
Buckeyes tickets range in cost from $9 to $24 for non-conference games, $15 to $39 for Big Ten games, and $19 to $50 for Premier games. Tickets are available online here.
Where to watch Ohio State basketball
Ohio State games air on ESPN, ESPN 2, ESPNU, FS1, Big Ten Plus, Big Ten Network and CBS. Many of these channels can be streamed online via free trials with services like YouTube TV, Hulu Live TV, DirecTV Stream, FuboTV and Sling TV.
Ohio State's signature March Madness moment
The Buckeyes won a National Championship in 1960 and finished runners-up in the NCAA Tournament three times since then, most recently in 2007. Ohio State has also appeared in the Final Four 11 times, most recently in 2012.
While the 1960 team is obviously an all-time classic, there's a good argument to be made the 2007 team lives on more clearly in most Ohioans' minds. As mentioned, the Buckeyes made it all the way to the National Championship game in the 2007 NCAA Tournament before losing to Florida. As a result, the team and its stars, Greg Oden and Mike Conley, were featured heavily in the "One Shining Moment" video that followed the game on CBS that year: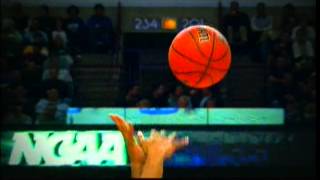 Ohio responsible wagering resources
Ohio Lottery's Play Responsibly Initiative
The Ohio Lottery Commission offers a range of resources including links to treatment programs and essential facts about problem gambling.
This initiative provides helpful warning signs to look out for in problem gamblers.
Access to the Ohio Voluntary Exclusion Program is provided, allowing users to self-exclude from gambling venues.
Online registration for the self-exclusion program is available.
Ohio Casino Control Commission
As the state's regulatory body, it provides a comprehensive suite of responsible gambling resources.
It includes details about the Ohio Voluntary Exclusion Program.
Valuable mental health resources are made accessible.
The commission provides a self-assessment tool to help identify possible gambling problems.
It offers contact information for state and national gambling helplines.